on
July 28, 2014
at
12:01 am
Self-objectification, people. It's no joke.
Hey lovely readers! I know you've been wondering when the next update will arrive, and I'm really sorry it's taking so long. I wanted to have it done by today, but it doesn't look like that's gonna happen. However, I will post a brand new Gyno-Star comic on Monday — I PROMISE!
Sorry for the wait!
Hi folks!
Many of you have noticed that I haven't updated since… wow, late November. So, first of all: I'm alive and I'm doing fine, and thank you all who expressed concern. Sorry to disappear on you like that.
Second of all, I will be posting new comics soon, I promise. I'm very excited about where the current storyline is going, and I've got several comics in the works for you, including an upcoming collaboration with Dave Barrack of "Grrl Power." It's gonna be fun and hilarious and I think you're all going to love it. But! I've decided not to resume updates until I have at least a few comics ready to go, so there won't be any more interruptions.
If you don't feel like checking back constantly to see if the updates have resumed, I recommend following me on Facebook and/or Twitter, where I'll be sure to let you know when new comics have been posted.
Third, and lastly, if you're interested, please check out my work at VITAMIN W. I'll be making original cartoons for that site once a week. If you enjoy the sense of humor and style of Gyno-Star, you'll probably enjoy these stand-alone comics as well.
Thank you all for your readership and support!
-Rebecca
Hello lovely readers! As we bring 2013 to a close and prepare for the unsullied freshness of 2014, let's look back at the year that was… in Gyno-Star comics! Here are 2013′s five most popular "Adventures of Gyno-Star" strips (as determined by number of page views):
3. "Flattery Takes Many Forms"
1. "More Beautiful Than You Think"
Is your favorite on the list?
So, I did a guest comic for the ridiculous and funny webcomic "I am ARG!" by the uber talented Andrew Gregoire. Andrew is very busy getting married, and he asked me to fill in so he could keep updating his comic regularly. I took the opportunity to share some matrimonial guidance gleaned from my many years of healthy relationships.
Click the image below to see the comic. Leave comments! Be cool.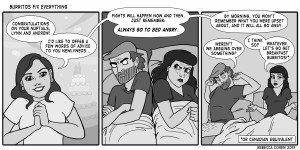 Hey folks! VITAMIN W did a little feature on me and a cartoon that I made. Check it out:
http://vitaminw.co/culture-society/Miss-gendered-cartoonist-satirizes-transphobic-feminists
EDIT: Well, it looks like the link is broken. I'll let you guys know if/when they fix it. Sorry!